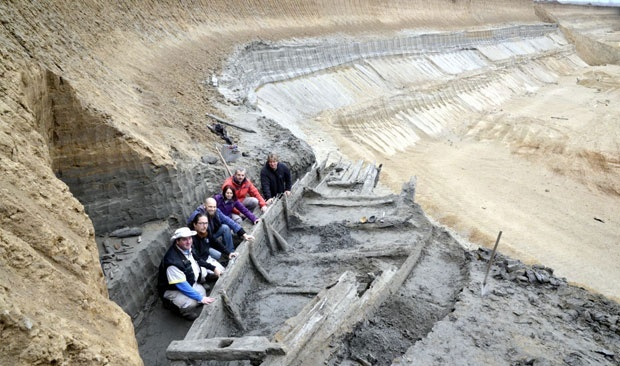 Thanks to the pandemic, radiocarbon dating and further excavations are on hold.
Coal miners in Serbia recently dug up an unexpected surprise: three probable Roman-era ships, buried in the mud of an ancient riverbed for at least 1,300 years. The largest is a flat-bottomed river vessel 15 meters (49 feet) long, which seems to have been built with Roman techniques. Two smaller boats, each carved out from a single tree trunk, match ancient descriptions of dugout boats used by Slavic groups to row across the Danube River and attack the Roman frontier.
The Kostolac surface mine lies near the ancient Roman city of Viminacium, once a provincial capital and the base for a squadron of Roman warships on the Danube River. When the Roman Empire ruled most of Southern Europe, the Danube or one of its larger branches flowed across the land now occupied by the mine. The three ships lay atop a 15-meter- (49-foot-) deep layer of gravel, buried under seven meters (23 feet) of silt and clay, which preserved them for centuries in remarkably good condition—or did until the miners' earthmoving equipment dug into the steep slope to excavate for the mine.
Read the rest of this article...