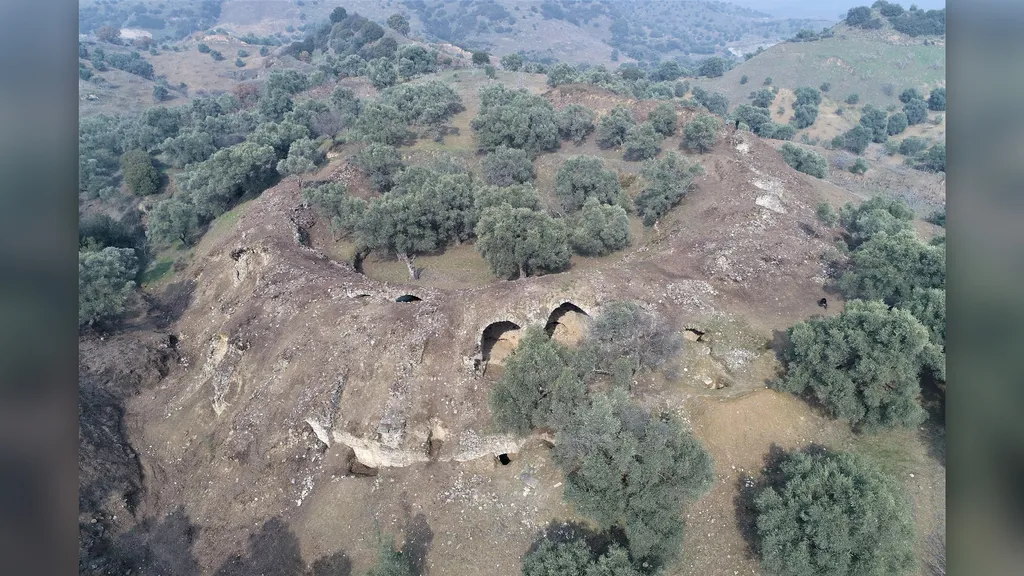 An aerial view shows the Roman-era arena poking out of a hilly area in Mastaura, Turkey. (Image credit: Courtesy of Assoc. Prof. Mehmet Umut Tuncer/Aydın Provincial Director of Culture and Tourism)
Archaeologists in Turkey have discovered the remains of a "magnificent" Roman-era arena, where up to 20,000 spectators likely cheered and jeered as they watched gladiator matches and wild animal fights, the excavators said.
The 1,800-year-old arena was discovered on the rolling hills of the ancient city of Mastaura, in Turkey's western Aydın Province. Its large central area, where "bloody shows" once took place, has since filled with earth and vegetation over the centuries.
"Most of the amphitheater is under the ground," and the part that is visible is largely covered by "shrubs and wild trees," Mehmet Umut Tuncer, the Aydın Culture and Tourism provincial director and project survey leader Sedat Akkurnaz, an archaeologist at Adnan Menderes University in Turkey, told Live Science in a translated email.
Read the rest of this article...