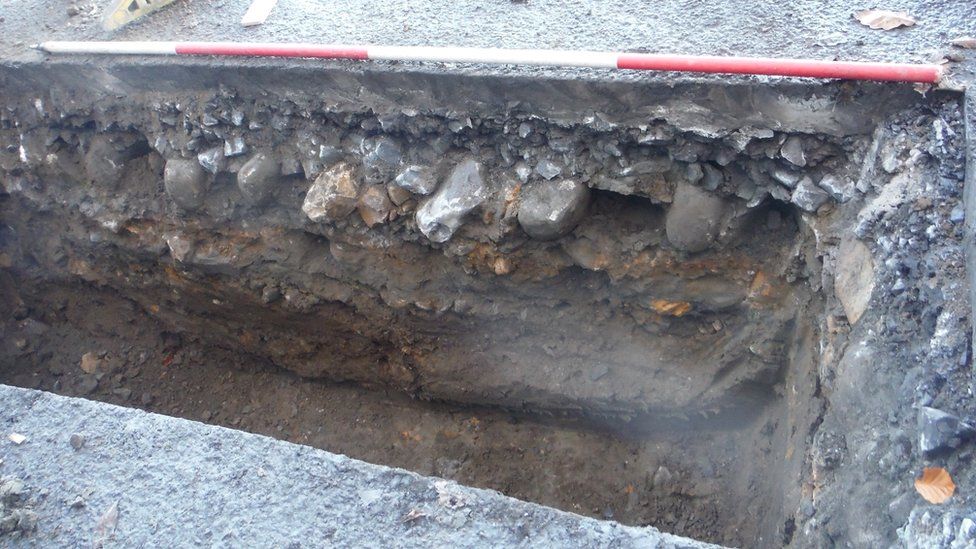 The remains are part of The Stanegate - a Roman road which ran east-west south of Hadrian's Wall Northumbrian Water
Remains of a Roman road which pre-dates Hadrian's Wall have been uncovered in Northumberland.
The find, which is almost two thousand years old, was made during work on the water network near Settlingstones.
They are thought to be from the road's foundations and built by Agricola or his successors about AD80, although no evidence of its exact date was found.
Archaeologists said given its location it was an "important part" of the early northern Roman frontier.
The ancient remains were discovered by Northumbrian Water when it began improvement works at the site of The Stanegate road, which linked Corbridge and Carlisle.
Philippa Hunter, from Archaeological Research Services Ltd, which worked on the site, said: "While monitoring the excavation pit, our archaeologist identified a deposit of compacted cobbles thought to be the remains of the Roman road's foundations."