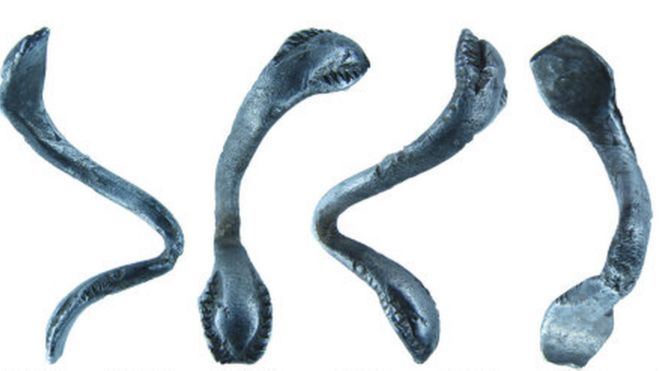 The Roman ring would have been circular with the snakes' heads touching,
but it has been bent out of shape
COLCHESTER AND IPSWICH MUSEUM SERVICE
A Roman ring might have been made by the same jeweller behind a famous hoard and would have belonged to "someone with access to a fair amount of money".
The silver ring, featuring two snake heads, was found in Buckinghamshire by a detectorist from Essex.
Items with the same "distinctive cobra heads with a kind of frill" were part of the Snettisham Jeweller's Hoard, found in Norfolk in 1985.
Essex finds officer Sophie Flynn, said it was a "pretty exciting" discovery.
The Snettisham hoard, thought to be from the stock of a single jeweller, was buried in a pot in about AD155 and rediscovered during building work.
Read the rest of this article...