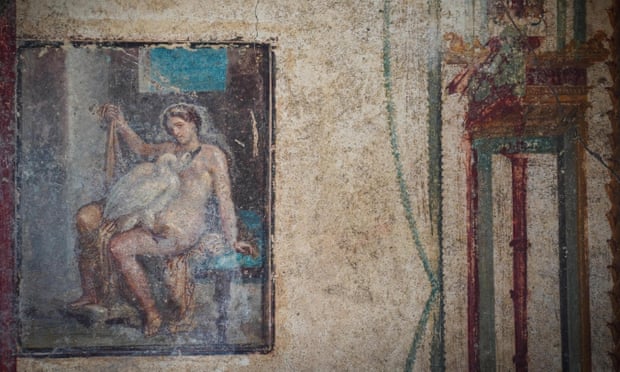 The fresco of Leda and the swan. The image was fairly common in homes in Pompeii and Herculaneum, which were both destroyed when Mount Vesuvius erupted in AD79.
Photograph: Cesare Abbate/EPA
A fresco depicting an erotic scene from the Greek myth Leda and the Swan has been unveiled to the public for the first time in the ancient Roman city of Pompeii.
The well-preserved fresco of the figure of Leda being impregnated by the Roman god Jupiter, disguised as a swan, was found last year during excavations of Regio V, an area of the archaeological park that has yielded several surprises.
Via del Vesuvio, the road on which the upper-class townhouse, or domus, containing the fresco is located, is also being reopened. Archaeologists believe the domus belonged to a rich merchant who wanted to reflect his high level of culture by adorning his home with myth-inspired frescoes.
Read the rest of this article...