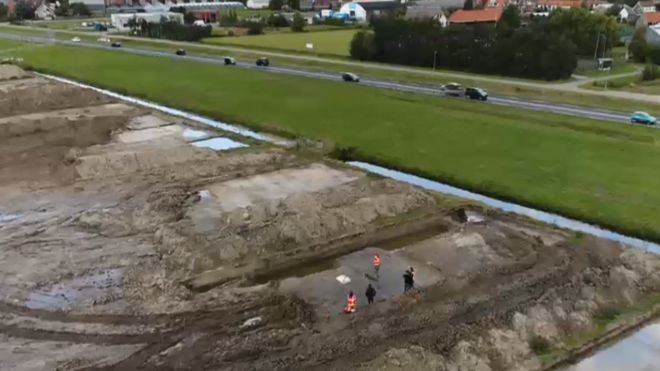 The dig is metres away from a main road
Archaeologists in the Netherlands have discovered a 2,000-year-old stretch of Roman road and the remains of a Roman village at the town of Katwijk, which once marked the northern boundary of the Roman Empire.
The road is 125 metres (410 ft) long and lies close to a busy highway in the Valkenburg suburb. The Roman village comes complete with a canal and burial ground, the Omroep West regional broadcaster reports.
South Holland Province asked archaeologists to examine the whole area where the new RijnlandRoute bypass is to run, aware of the local Roman legacy and anxious to preserve any finds.
The Emperor Claudius built the city of Lugdunum Batavorum at the mouth of the Old Rhine River, which still flows through Katwijk, and ships would sail from there for Britain. But no one expected to find such well-preserved remains in Katwijk itself.
Read the rest of this article...