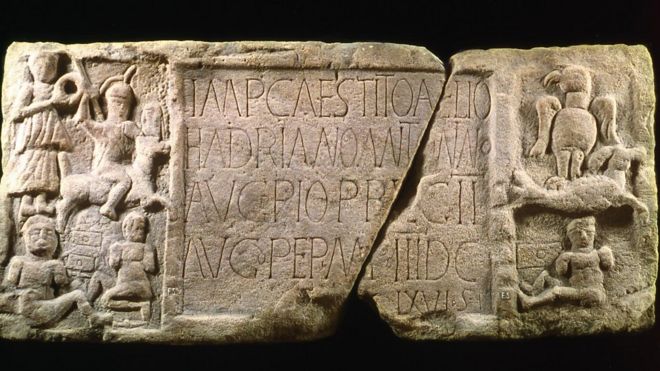 THE HUNTERIAN/ UNIVERSITY OF GLASGOW
The Summerston distance stone from the Antonine Wall, which was found near Bearsden, was one artefact successfully tested for pigment
Parts of the Roman Empire's most north western frontier were likely to have been painted in bright colours, new research has found.
The Antonine Wall was built across central Scotland from Old Kilpatrick in the west to Bridgeness in the east.
Now an expert at Glasgow University has used cutting edge technology to examine the remnants of the structure.
And archaeologist Louisa Campbell has found that "distance stones" were painted vibrant red and yellow.
She said the coloured stones were used by the Romans to demonstrate their power over local people.
"The public are accustomed to seeing these sculptures in bland greys, creams, white (for marble) and don't get the full impact that they would have had on the Roman and indigenous audiences 2,.000 years ago," she added.
Read the rest of this article...