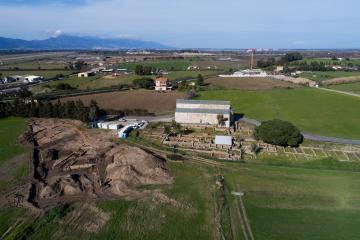 Une équipe de l'Inrap vient de mettre au jour un sanctuaire dédié au dieu Mithra sur le site de Mariana, à Lucciana (Haute-Corse). L'opération, autorisée par le préfet de Corse, est placée sous le contrôle scientifique de la Drac de Corse (service déconcentré du ministère de la Culture et de la Communication) en liaison avec la commission territoriale de la recherche archéologique sud-est.
D'après Sénèque et Pline, Mariana est une colonie de citoyens romains, fondée vers 100 avant notre ère par Caius Marius, général, consul et grand réformateur de l'armée romaine, après sa retentissante victoire sur les peuples Cimbres et Teutons. Elle s'inscrit dans une stratégie militaire à l'échelle de la mer tyrrhénienne. À son apogée, vers le IIIe ou le IVe siècle, Mariana, une petite agglomération ne dépassant guère dix hectares, est organisée en une vingtaine d'îlots. Son port participe activement aux échanges commerciaux en Méditerranée. La fouille archéologique met au jour un quartier périphérique de la Mariana antique.
Read the rest of this article...